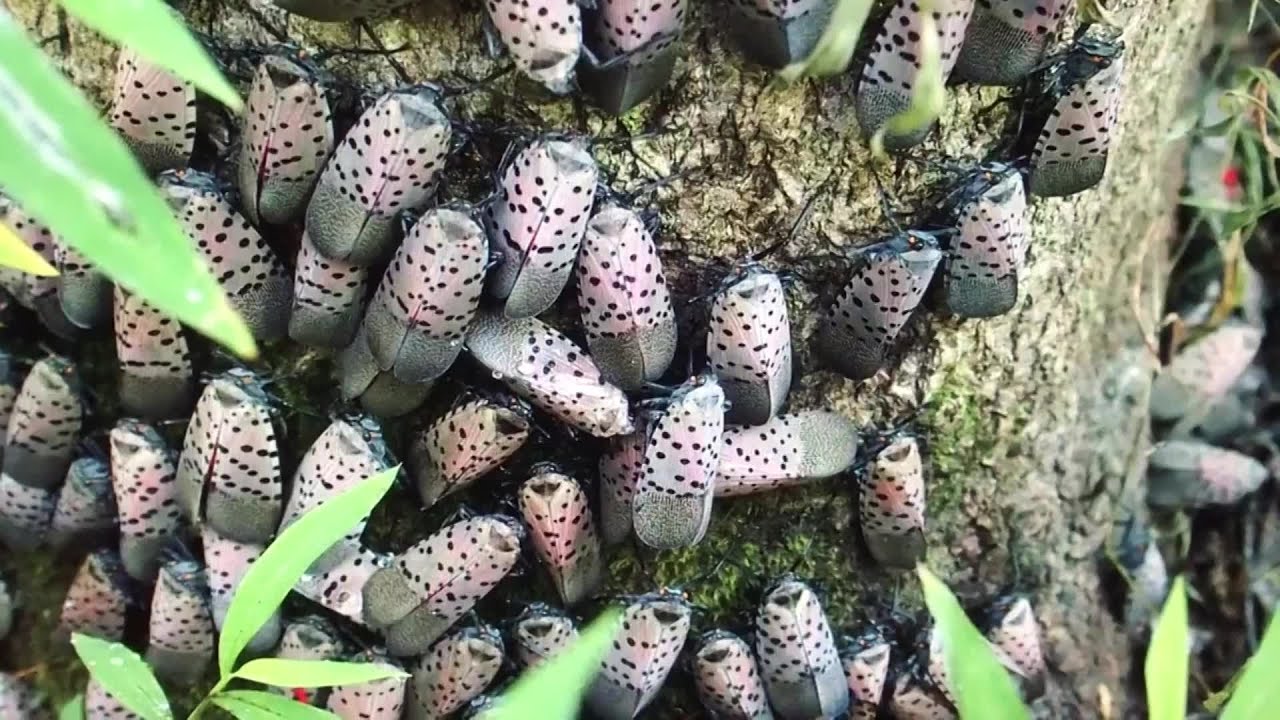 The Spotted Lanternfly has invaded Lehigh Valley, Pennsylvania and 7 other states (so far), and has become a major threat to the agriculture & forestry industries. Here's what you need to know about Spotted Lanternflies in the Lehigh Valley.
Spotted Lanternfly 101
Spotted Lanternflies (SLF) are a planthopper insect native to Asia. They measure around 1in long by 1/2in wide. They have wings, but often hop more than they fly. They're not known to bite, they don't sting and it's not known if they are poisonous if ingested.
Lanternflies start out black with white spots that later turn red and black with white spots. Adults have black and yellow undersides, and their wings, when closed are gray with black spots. When opened, their hind wings are gray and black with a bold white stripe on top and red & black spotted on the bottom wings. 
Their Population Explosion
First detected in the USA in 2014 (in Berks County, PA), they are now in 14 counties: Berks, Bucks, Carbon, Chester, Dauphin, Delaware, Lancaster, Lebanon, Lehigh, Monroe, Montgomery, Northampton, Philadelphia & Schuylkill. They've also invaded 7 states: NJ, NY, CT, MA, DE, MD, and VT. 
Their population has exploded because there are no known predators here to control them, and females lay 30-50 eggs at a time on ANY surface! Their eggs form a mass about 1inch long, coated with a mud like covering, and have been found on items including propane tanks, ice chests, outdoor playsets, picnic tables and benches, on car bumpers and train cars.
The Damage They Cause
SLF's excrete a sticky sweet waste substance called "honeydew" that covers leaves and bark. The honeydew attracts a black sooty mold which damages (and can kill) trees and plants. The honeydew also attracts pests like hornets & ants. 
We reached out to Tim Nash of Parkland Nurseries in Orefield, and he said: 
"How to identify and understand the life cycle and stages of the Spotted Lantern Fly is very important in controlling the spread of this highly invasive species. It has the potential of causing extensive damage to very important Pennsylvania crops and beyond. People need to understand how important the wood industry, as well as fruit, grapes and hops, are to Pennsylvania industries." 
Spotted lanternflies threaten more than 70 native plants and crops including grapes, apples, walnut, maple and other hardwood trees, hops, and they favor the "Tree of Heaven." The industries they threaten contribute around $18 billion to the PA economy.
What's Being Done To Stop Them 
Quarantines:
These have been created in PA (and the 7 other invaded states), that restrict the movement of items in quarantined areas.
Penna Department of Agriculture Required Permits:
Businesses and organizations operating in the quarantine zone must have PDA permits to move vehicles, goods & equipment within and out of the zone.
Tim Nash of Parkland Nurseries offered some advice: 
"The (SLF) permit requirement is a great way to monitor the movement of these planthoppers and prevent further spread. The online course is well laid out and only one representative from a company needs to take it. Once the permit is obtained, it is their responsibility to train and educate other employees of what to look for and how to control and stop further spread of the SLF."
FREE toolkits
Penna businesses can obtain a FREE toolkit with info to inform employees on how to stop the spotted lanternfly.
Government Involvement
In 2018, the U.S. Department of Agriculture gave $17.5 million to the cause. Other states not yet affected (like California) have issued funding as well.
Possible Breakthrough:
In April 2019, Cornell University-led research reported that two fungal pathogens were decimating lanternfly populations near Reading, PA. While very promising, additional research still needs to be done.
How You Can Help 
Destroy Them When You See Them.
Smash them or use an EPA-registered insecticide to spray the bug.
Destroy Their Eggs
Spotted lanternflies lay eggs from September – December. The Spotted lanternflies hatch from September – June. To remove eggs: Scrape them off with a plastic card or putty knife, and place them in a container filled with rubbing alcohol or hand sanitizer.
Report Sightings Outside Of The Quarantine Zone!
Report sightings to the PA Department of Agriculture: 1-888-4BADFLY. You can also call the Penn State Hotline: 1-888-422-3359.
---
Arbor Insurance Group provides home insurance, auto insurance, life insurance, and other business and personal insurance products throughout the Lehigh Valley, including Allentown, Bethlehem, Easton, Emmaus, Macungie and surrounding areas.